In 1964, THE SPEECH IMPROVEMENT COMPANY was founded in Newton Massachusetts.  In the 1960's the concept of speech coaching as a profession did not exist.  The company was founded by Dr. Dennis Becker and the late Dr. Paula Borkum Becker.  They took clients from their home in Newton Massachusetts.
In the 1970's the company grew and moved to Beacon Street in Brookline Massachusetts where it lived for decades until 2015 when they moved to Framingham.
Beacon Street played an important role in the timeline.   It represented a significant change and commitment to the company and cause.  Local universities such as Harvard University, MIT, Boston College and Boston University  began calling upon THE SPEECH IMPROVEMENT COMPANY staff to develop programs for their students from undergraduate to graduate levels.   Countless individuals began coming to Beacon Street for private coaching lessons to strengthen their leadership and management skills through better communication.  Night courses were buzzing as inner city professionals would take the green line (subway) to the office's front door.
After a short time renting, TSIC purchased the 4 story brownstone building and lived there for the next 4 decades.   The Beacon Street headquarters has seen the likes of  royalty, foreign leaders, politicians, celebrities, and executives of all types come through it's doors.   It was truly the first of it's kind.   Over the decades TSIC opened offices in other states and on 4 continents.
After Dr. Paula Borkum Becker lost her battle with cancer, the company leadership transitioned to the next generation.  The building was sold and the company has moved into a corporate setting located in Framingham Massachusetts, just a couple of minutes off of the mass turnpike.  As we continue into the second generation of THE SPEECH IMPROVEMENT COMPANY,  the team has never forgotten the hard work, development, research, and magic that was made at the Beacon Street beginnings.
To this day, our coaches report back from their global travels when they find a client that says "Were you in that building with the blues brothers in the window? "
Below is a painting created by a client.  It hangs with pride in our new office.   While our location has changed, our mission has not.  It is our hope and goal to heal the world through teaching people better communication skills.  One word at a time.    Simply put, a better life through better speech.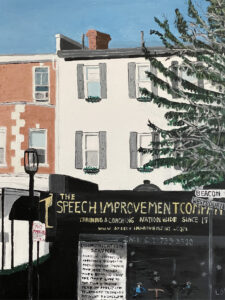 To view a video tour of the Beacon Street click here